Meet us at SEIMC in Spain!
Labquality will be attending the National Congress of the Spanish Society of Infectious Diseases and Clinical Microbiology on 1-3 June 2023 in Santiago de Compostela, Spain.
Our key account manager Jukka Korhonen and representatives of Eligen Diagnostica will be available for discussions at the exhibition of the meeting.
Please book an appointment if you would like to discuss proficiency testing (external quality assessment schemes) for virology!
Visit our booth to check out our latest EQA programs for microbiology!
EQA Programs for Microbiology
We provide clinically relevant EQA programs for Microbiology. Our microbiology portfolio covers all clinically important pathogens and laboratory methods. Programs are suitable for clinical laboratories, research laboratories and point-of-care testing methods as well.
Please visit our booth to pick up your copy of our product catalogue or download it here.
New programs
We actively follow the development of laboratory medicine and we want to produce clinically relevant EQA schemes to serve clinical laboratories and point-of-care sites. We launch new pilot studies on a regular basis.
NEW SCHEMES AND PRODUCTS FOR MICROBIOLOGY 2023
• 5250 Interferon Gamma Release Assay (IGRA) for Mycobacterium tuberculosis
• 5261 Fungal infections, nucleic acid detection
• 5556 HSV1/HSV2/VZV/T. pallidum, nucleic acid detection
• 5965 CXCL 13 Chemokine
• 5230 Mycobacterium tuberculosis, drug resistance
PLANNED NEW SCHEMES FOR MICROBIOLOGY 2024
New schemes are introduced by performing a pilot study for a limited number of participants. Below is a selection of planned pilot studies that are open for registration.
• 5254 Mycoplasma genitalium, drug resistance, nucleic acid detection
• 5253 Helicobacter pylori, nucleic acid detection
• 5043 Gram stain, vaginal fluid
• 5686 Norovirus, antigen detection
• 5474 Leishmania, nucleic acid detection
See you at SEIMC!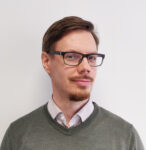 Jukka Korhonen
Key Account Manager
jukka.korhonen@labquality.com
+358 50 540 9351